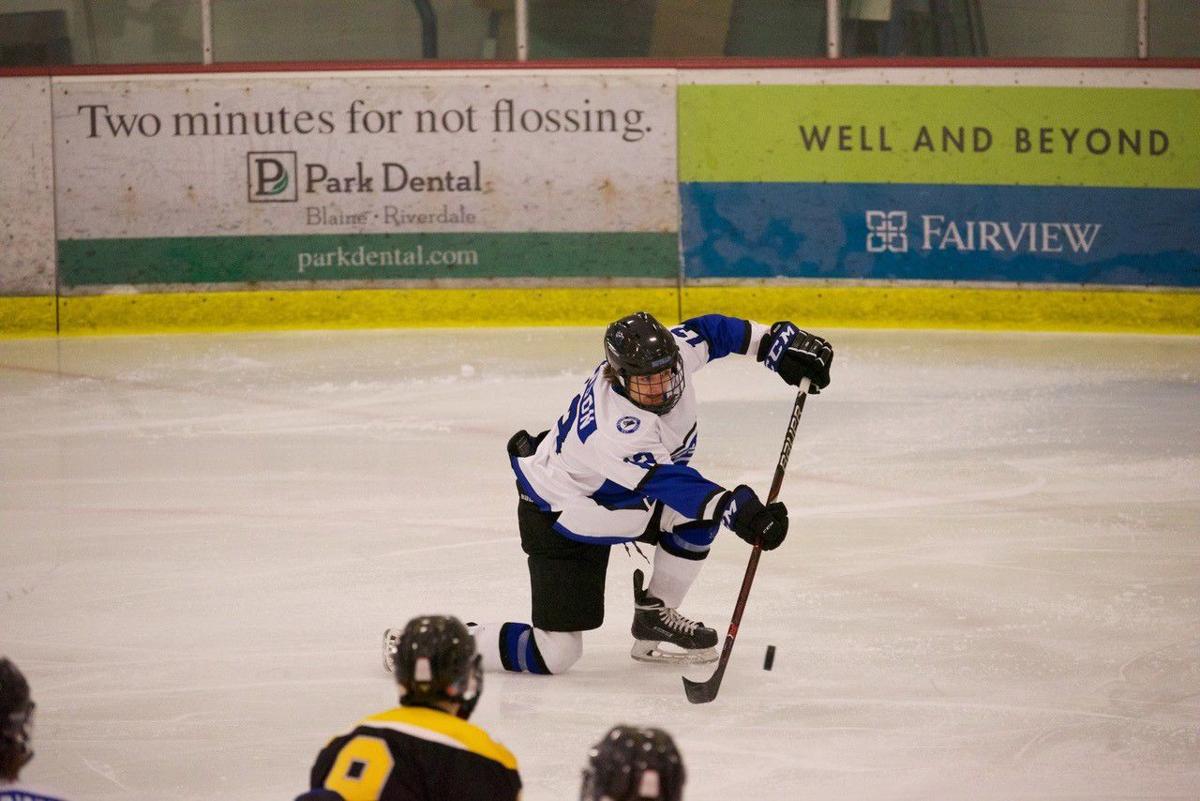 Jake Jenson takes a shot in the Schwan's Cup in Blaine. Rogers finished third in the tournament after beating Mankato West and Spring Lake Park.
Royals take out Spring Lake Park 4-1 in 3rd-place matchup of Schwan's Cup
by Jared Hines
Contributing Writer
Ask anyone on the Royals boys hockey team and they will be the first to tell you that there hasn't been much to celebrate so far in the 2017-18 season.
The team started the season 1-8, heading into the annual Schwan's Cup with something to prove on a bigger stage than usual. The Schwan's Cup is one of the premier holiday tournaments in the state of hockey and one the Royals wanted to succeed in.
The Royals didn't disappoint, taking third place in the Bronze Division.
Beginning on Dec. 26, the Royals headed to Schwan's Super Rink for a battle against Mankato East in the opening round. Mankato East outshot the Royals 20-12 through two periods with four opportunities to score on the power play. Fortunately for Rogers, the play of goalie Nathan Johnston kept the game scoreless as the two teams headed into the third.
Members of the Royals stayed out of the penalty box in the third period, determined to steal the game from Mankato East and secure win No. 2 of the season. With just under two minutes left in the game, Trey Frederickson found the back of the net, sealing the victory for the Royals and advancing them into the Schwan's Cup semifinal round against Hudson. Jake Jenson and Aaron Schmidt were credited with the assists on Fredrickson's goal.
The Royals knew their next opponent was going to be challenging. Not only had the two teams met in the opening round of the 2016 tournament (Hudson won 3-2), the Raiders went on to win the state tournament in Wisconsin. The team's success was continuing in the 2017-18 season as Hudson entered the game 8-0 and tallied up win No. 9 against Rogers. The Royals had six power play opportunities in the game but weren't able to capitalize. Electing to go with goalie Patric Loeffler in the second game of the tournament, the Royals goalie stopped 45 shots but it just wasn't enough.
In the third-place game against Spring Lake Park, the Royals cruised to a 4-1 win, although shots were tallied at 23 for each team. Dylan Timm, Aaron Schmidt, Justin Grudem, and Cal Levis scored for the Royals, giving Rogers its third win of the season.
Rogers fell 6-0 to St. Cloud in the team's first game of 2018, dropping their record to 3-10 on the season.
The Royals were scheduled to take on St. Francis on to road on Jan. 4 before going on a four-game homestand. Seven of the next nine games are against Mississippi 8 conference opponents.